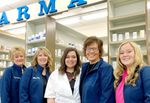 Contact Us
P: 217-563-8346
F: 217-563-2418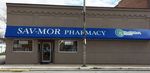 Our Location
110 East State Street

Nokomis, IL

62075
We're Open
Monday - Friday: 8:30 a.m - 5:30 p.m.

Saturday: 8:30 a.m - 12:00 p.m.

Sunday: Closed
The Nokomis Sav-Mor Pharmacy is proud to be known as one of the last locally owned independent pharmacies in town. You'll find every member of our staff to be knowledgeable and accessible. While our commitment to personal service is still the most important aspect of our business, we are constantly expanding to include many patient care services. Through all of the growth and modernization, The Nokomis Sav-Mor Pharmacy has managed to maintain the intimacy of a neighborhood pharmacy.
Medicare Part-D and Illinois Medicaid
Private patient consultation area.
Hallmark greeting cards and Fannie Mae Candies.
Wide variety of Over-the-Counter medications.
Free Blood Pressure testing.
Unique gifts and novelties.

Diabetic Products
We bill Medicare Part-B for diabetic testing supplies, as well as carrying a full line of diabetic products.

Immunizations
From seasonal Flu shots to Pneumococcal and Shingle vaccines, we can answer all of your vaccination questions. No prescription is required. We'll bill your insurance and administered the shot while you're in our store. Contact us for more details.

Med Sync
We can synchronize all of your ongoing medication refills, so you can pick them up on a single convenient day each month. This will also allow our pharmacist to help you stick to your medication regimen, and allow time for questions should the need arise.

Free Delivery
We offer FREE delivery in the Nokomis area, as well as FREE mail-out service. You can also try our fast, convenient Drive-Thru service.
COVID-19 vaccinations NOW AVAILABLE at this location. To check appointment availability or schedule an appointment click here.
Please click here to fill out the COVID-19 vaccination consent form, and bring it to the pharmacy.